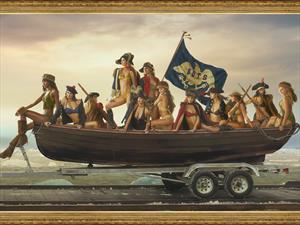 Muchas historias de la Independencia Americana han perdurado hasta convertirse en leyenda.
Para recordar esos momentos Sports Illustrated y Ram Trucks se unieron para recrear la mundialmente famosa obra de Emanuel Leutze "Washington Crossing the Delaware" de una manera bastante original y por qué no decirlo, sensual.
En esta ocasión la barcaza de madera que en 1776 tripuló George Washington fue remolcada al rio Delaware por medio de un Ram 1500, una vez en el agua 17 modelos de Sports Illustrated Swimsuit se encargaron de cruzar la embarcación.
Aquí te dejamos el "Behind the Scenes" de este atractivo y original video.
Ram Trucks 2015 Sports Illustrated Swimsuit